Crewed Charter Gulet
Crewed Charter Gulet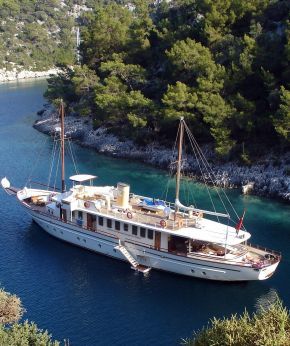 Experience luxury at sea! Moon Yachting offers you, your loved ones, and friends the opportunity to enjoy various cruises, activities, and themes, or just the simple pleasure of relaxation and sunbathing aboard luxury gulets especially designed for comfort and privacy. The new generation gulets are built with state-of-the-art technology and all come in with full air conditioning, luxurious cabins en-suite, and some gulets are even designed with Jacuzzis on board.
On board your crewed charter gulet, you may cruise the coastline or ask the captain to take you to deeper waters to enjoy a better swim or maybe some privacy. If you are in the mood for some water sports and activities. Moon Yachting will arrange your toys! From jet skis to banana boats and diving equipment ıf you are in the mood for discovery.
We can also arrange several stops along the coastline for you to experience Southwestern Turkey and its great culture. Crewed charter gulet is yacht crew work and life to serve the guests with the utmost attention and the well-being of the clients is most important. The yacht crew runs the watercraft and is focused on your enjoyment and well-being. The crew is responsible for backing.